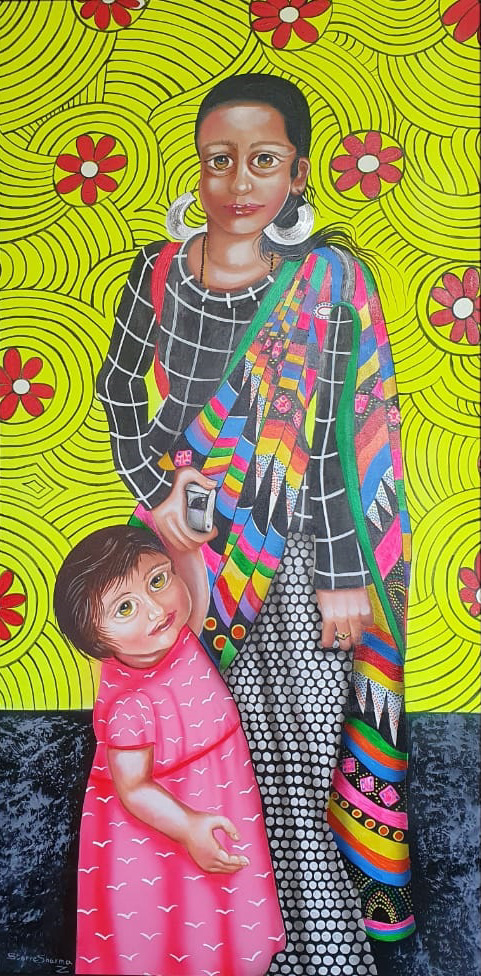 Here we have a very colourful lady standing in a gallery with her little daughter pulling at her sari. It is quite obvious that the mother is an artist. She is wearing a very colourful sari with creative abstract patterns that she definitely does not want match. I saw this lady as I walked by her during a big exhibition in New Delhi. The paintings at the exhibition were quite colourful and explorative. The atmosphere was just wonderful.
I found this lady to be so typically artistic. Even her little daughter was dressed to fit with her style, it showed that she was very conscious of doing everything in an artistic way. The lady is looking at me as I take a photograph and is completely absorbed in the moment while her little daughter pulls quite hard at her sari.
I painted the artist mother's eyes in this artwork very large because I noted that she was looking at everything in detail. Maybe she spent a long time at the exhibition, you can see that her little daughter is tired.
In this painting, I tried to show the struggle that so many women artists face as they try to develop as a creative person. It is difficult to find the necessary time for inspiration and to make art.
As you can see from the colours I was, of course, in a very bright mood when I made this painting. I gave it an extremely bright background to contrast with the black of her sari and make the mother and daughter pop out of the painting