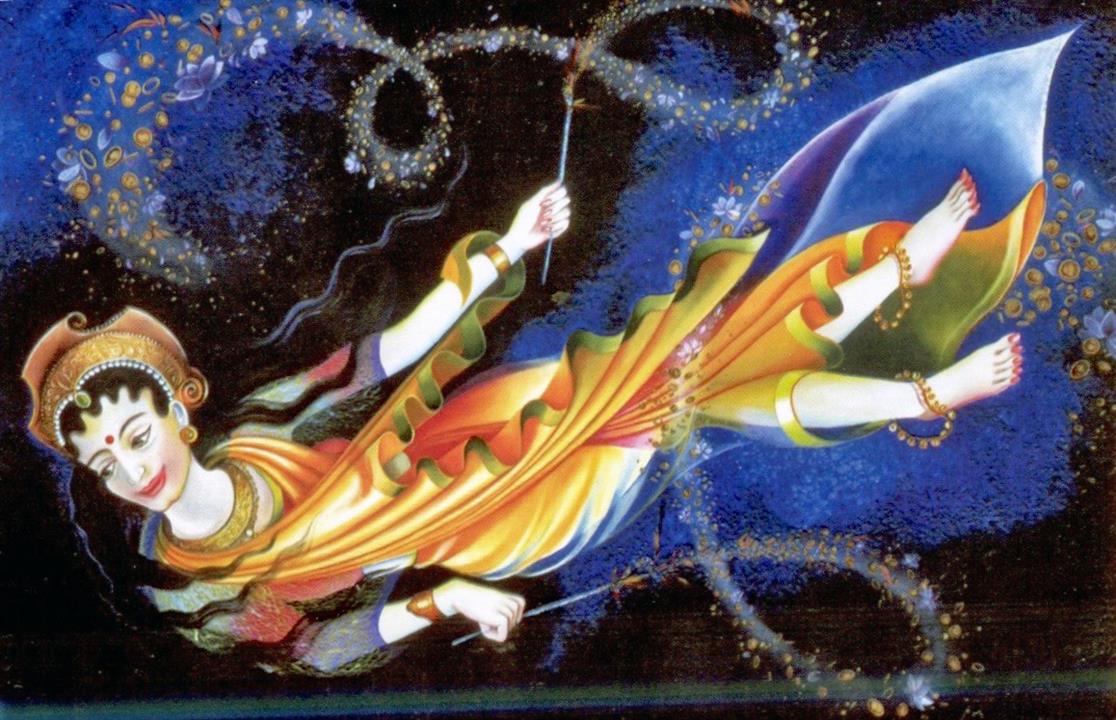 Oil on canvas, 91.44cm X 137.16cm, sold
I was inspired to make this painting while spending time daydreaming about the festive day of Diwali (Festival of Lights).Hindus have celebratedDiwali from ancient days.
Laxmi is the goddess of the festival day of Diwali. She flies through the night sky but she is not a winged angel. In my version, Laxmi is as white as the moon, glowing a soft silvery white light. She is the goddess of plenty—of everything one needs—although many people associate her with wealth, money, and gold.She is also "Maya", the delightful delusion, the dream-like expression of divinity that makes life comprehensible and worth living.[1]
Laxmi floats through the air, looking down on this world and observing the materialism down below. She smiles, her children want gifts from her.During Diwali, aside from praying, families place lights outside their homes to invite the goddess inside. Firecrackers are used to light up the sky to draw even moreof Laxmi's attention.
My painted Laxmi has firecrackers in her hands but, instead of fire, smoke and pollution, her firecrackers spout silver and gold coins. Here and there even a ring or two drop from her hands.
My Laxmihas wavy black hair and physically is a hybrid between the East and the West. After all, people around the world want the same security and happiness.
At the time I made this painting I had decided to only use canvas as a base for my paintings. This was because I had found that some of my paintings done on Masonite board had warped a little. Canvas can always be re-stretched. At the time I used to prepare the canvases myself.
The background in this painting is a deep ultra-marine blue that contrasts beautifully with the gold and white. These three colours go exceptionally well and balance each other. The yellow in my version of Laxmi has adress that symbolises wealth and radiance.
The finish of the painting is glossy and solid. No thin layers of paint were used. A coat of glossy varnish completes the effect. I frequently use varnish of different kinds. Sometimes I mix varnish with colour and use it as paint. I wanted to give a feeling of solid reality to this work, though the execution is as light as a small cloud.
---
See https://qz.com/india/545655/the-ancient-story-of-goddess-lakshmi-bestower-of-power-wealth-and-sovereignty/