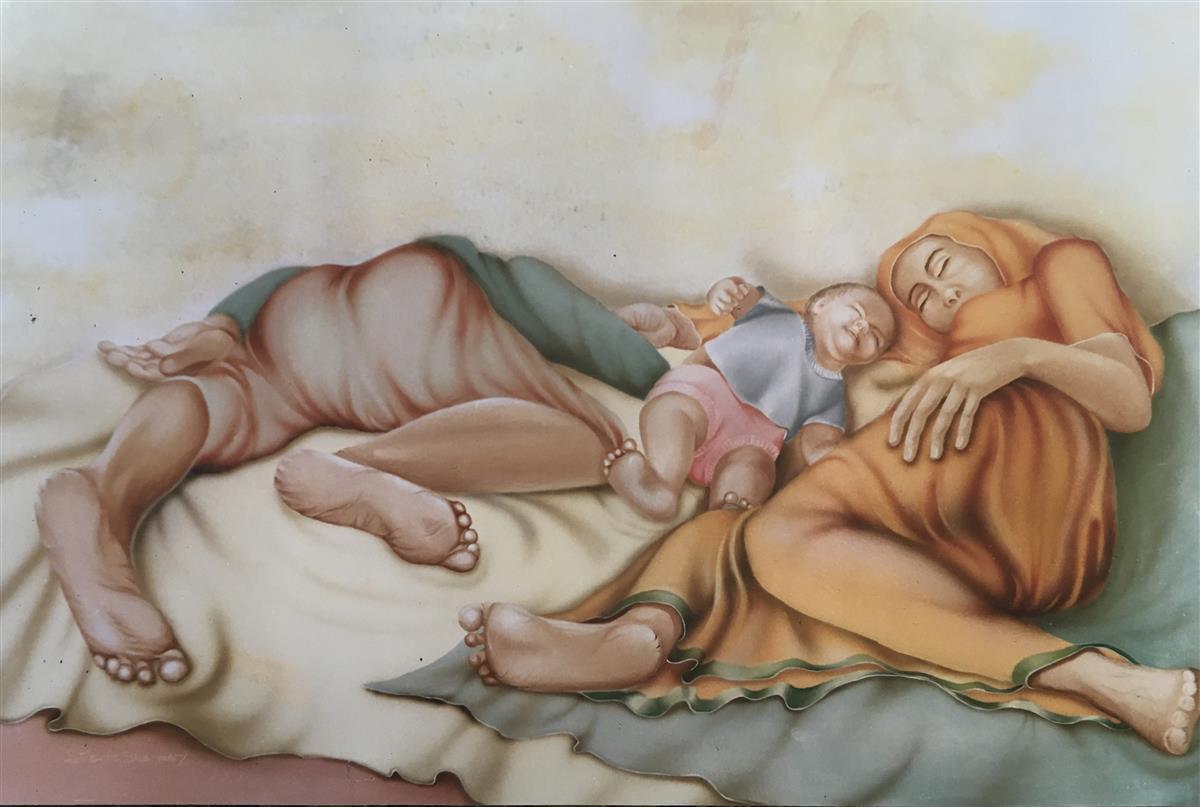 Here I used the same subject I implemented once before, migrant labour. This painting shows a young family sleeping out in the open, very symbolic of their lifestyle far away from their real home.
It is a very young family but you look at the feet facing you in the painting. The mother and father's feet are cracked and look old. The way their feet look symbolises their travels to find work and are symbolic of the labour they do. Work that requires them to climb, walk, and carry heavy loads,baby in tow!
This little family is very tired after work and sleep with the baby next to them. Such babiesare either tied to the mother's back as she works or can be seen sleeping on a small blanket on the side of the road or worksite. The first thing that these babies see is their parents working in the dust and heat, and so their life begins.
I do not know where this painting is now because this is one of the paintingsthat depressed me because of the focus on the vicious cycle of poverty and neglect. But as you can see there is a photo of the painting, so the story is still told.The situations of such workers moved me a great deal and the proceeds of my first art exhibition went to the Mobile Creche NGO. This NGO looks after the children of migrant workers in some of the construction sites. You can see the kind of artistic treatment that I used in this painting. The perspective focuses on the feet so that they are disproportionately large.The bodies become smaller as you look up into the painting. There is also evidence of very meticulous shading in this work which can be traced back to my learning airbrush. Though I did not use airbrush in this case, I used the same effect in this oil painting. This painting was framed using rough wood from an actual construction site.