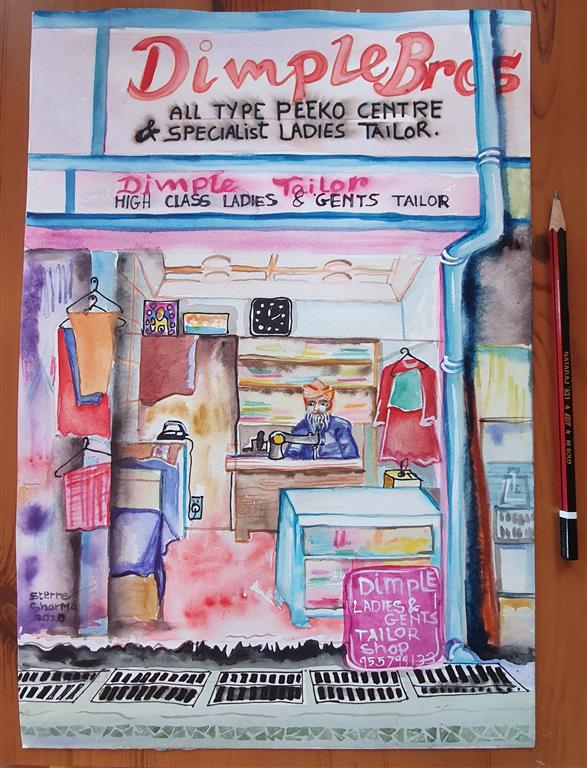 The Mussoorie story! (Set of watercolours) 2020
The year 2018 was the first time in my life when I started painting a series that told a story. The paintings tell about a moment that will never come again, an instant in the passing of time. Such collections of paintings should be viewed as one complete short story, like a cartoon. The first collection of a story in paintings that I made was the series of paintings called "Fun in Goa – Sun, Sand and the Sea" in 2018-2019.
In the year 2020 I did another series, but in watercolour. The lockdown for COVD19 marks the year 2020 and I was homebound in the Himalayan town of Mussoorie when I made this series.
I made around 15 watercolours which, together, tell the story of the daily sights of this beautifully located little hill city. In this collection, I worked to depict the expressions of the people represented in each painting. This results in a totally different mood from the painting series I did the year before on Goa.
This watercolour story is about what was happening during this difficult time in the mountains of India. The mood of this year is sombre, people mind their own business and are very isolated. There was a strong sense of waiting in all the water colours. It is monsoon time. Everything is wet, algae and moss creep up mouldy walls. Decay is at work as can be seen in the ruined palatial building ' Kohinoor'.
The last painting shows a rusty crashed car, as an old memorial. It fell down the mountain as happens often, sometimes weekly (people often are killed). The car lies rusting away after vagrants set fire to it long ago.
I would like to mention that before 2018, when I started painting in series, each of my paintings had a clearly stand-alone concept. Then a personal shock came into my life with the serious illness of my husband. This was accompanied with the double shock of family members who added to my deep stress and sadness with unhelpful behaviour. I started living more in the moment and thinking less. I learned to just cope from moment to moment. This had an effect on my art. Since that time l paint present moments and I look deeply into small events.
This series is in watercolour on Carson paper using watercolour Pencils, Talens watercolours, and black ink. I like using watercolour pencils because I can designate colours in each area when I make the original drawing. This means that, later on, I know exactly how I wanted to develop that painting when l got my original inspiration. After using the watercolour pencils I am at liberty to add whatever I feel will enhance the effect that I want to achieve.