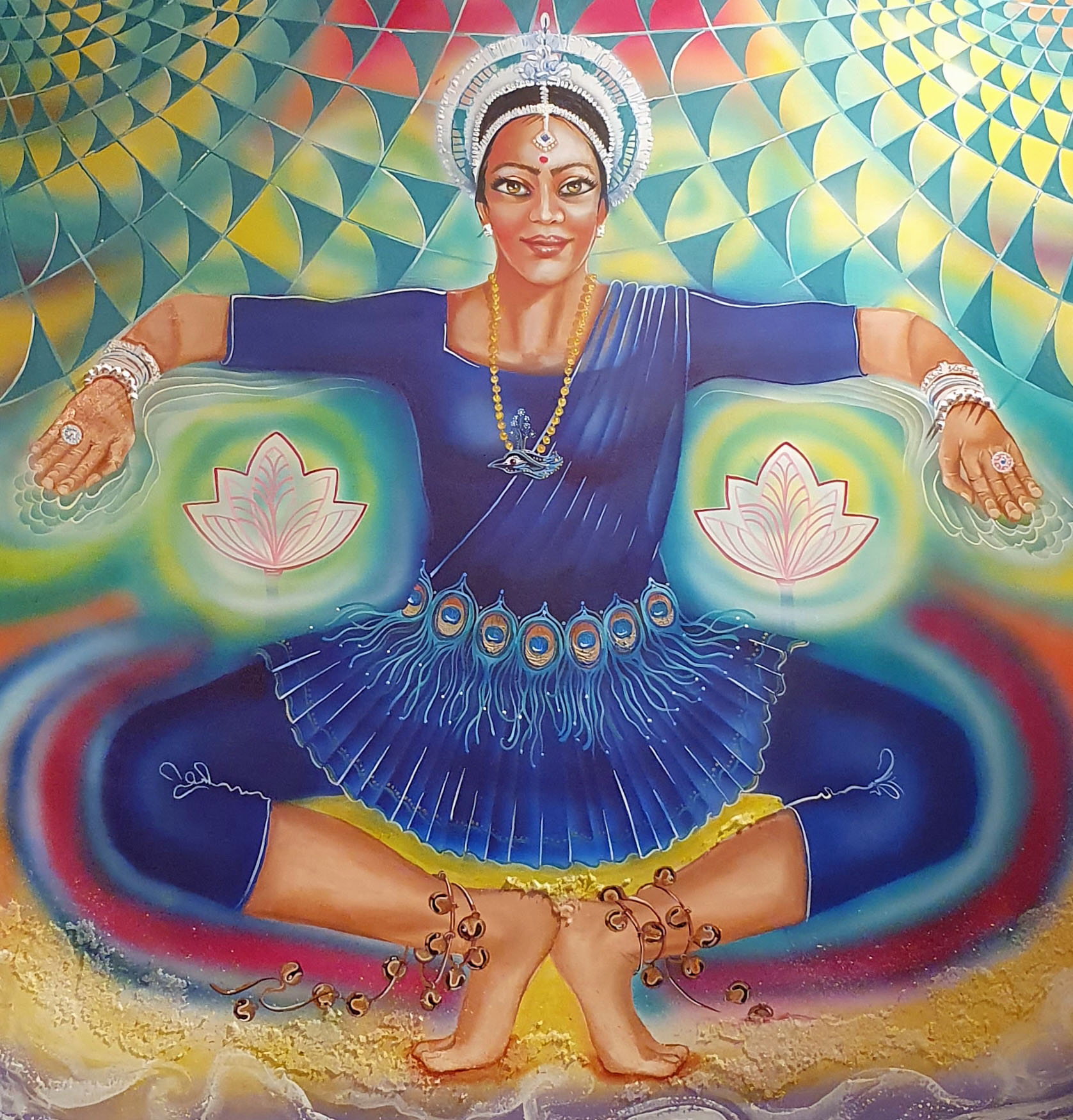 Soni (2020), 4 x 4 ft, acrylic, oil paint, airbrush, Italian canvas
This is a painting of a very special lady who is multitalented and very adventurous in life as well. She is traditional in her art but often breaks through the boundaries of tradition to be adventurous in many different areas. She Kavita Soni.
Kavita is a classical Odissi dancer with very expressive hands. They are extremely flexible as a result of years of practice and at the same time they give an effect of being powerful. She does not waste much time on all sorts of special treatments for her lovely hands! Soni is married to an Italian and speaks fluent Italian.
Kavita wears the traditional Odissi costume but sings religious songs and dances to a background of trance and modern music that her talented husband plays. Kavita's musician husband uses the latest electronic and traditional instruments. Sometimes he uses traditional instruments that are attached to electronic computers which distort sound in a beautiful way to make new and explorative music.
Sometimes Kavita wears Western clothes and sings Western songs or even dances any way that she feels in the moment. She explores her art and does not bother whether traditionalists like it or not.
Not only is Kavita a very talented artist, but she is also absolutely gorgeous and can transform the way she looks like a chameleon. What I like about her is that she is not frail but has a strong looking powerful body. Her body is more like I would consider the body of warrior goddesses to be. She reminds me a bit of those carved figures on the bows of the ships of the 16th century. The ships that travelled the world with sails being pushed by the wind.
Kavita's pose in this painting is that of power and readiness, almost as if she is about to take off into the air. This is a traditional pose, but look carefully at the bells around her ankles. They are slipping and sliding, breaking loose, symbolising the breaking of traditional boundaries to give way to innovation and inspiration while still respecting tradition.
The entire treatment of the painting is a mix of traditional and modern techniques. The skin is painted in oil paint. The rest was done in acrylic while some of the texture is resin. I also brought in sand granules that I laid over the paint to give it a sandy texture and very nicely sparkling lights.